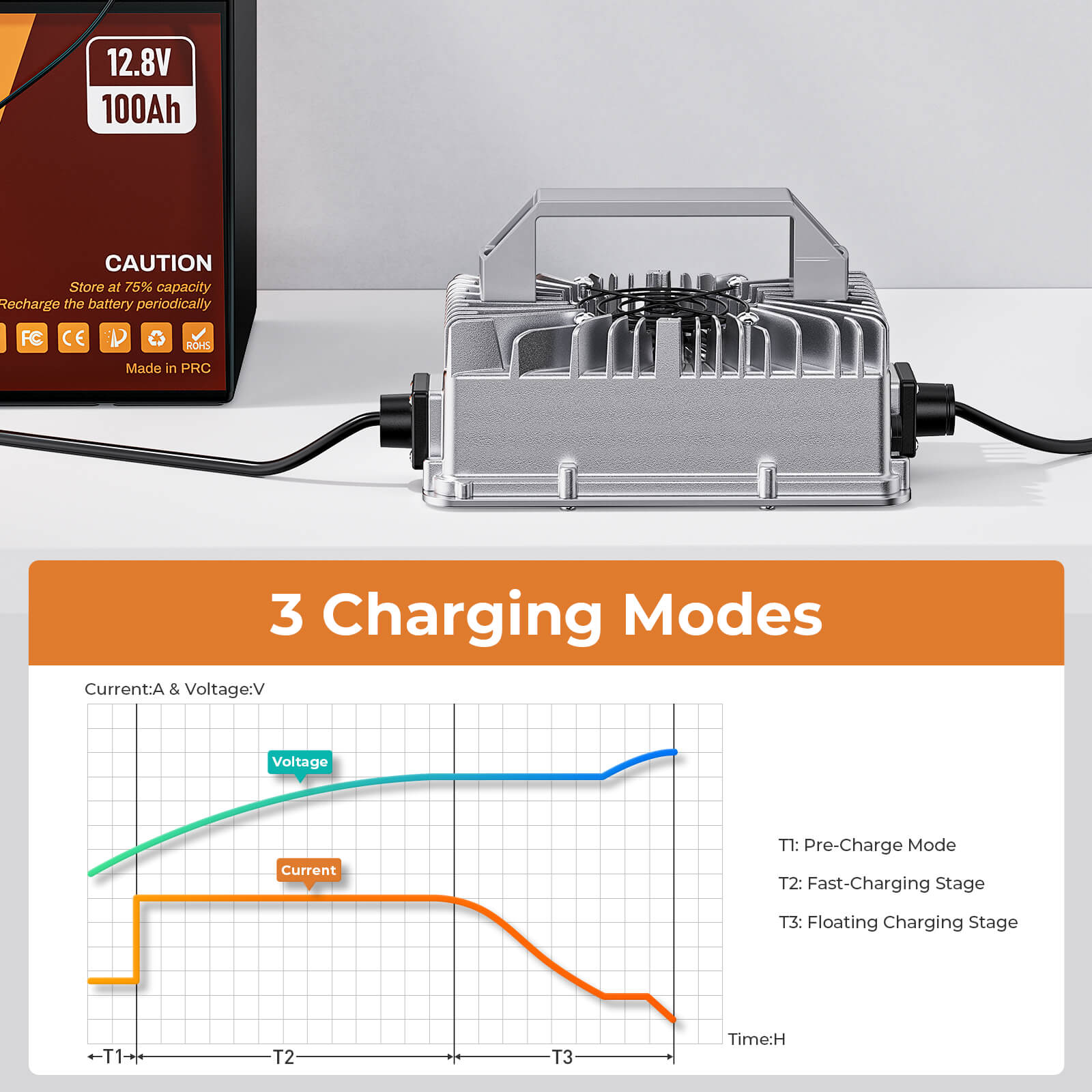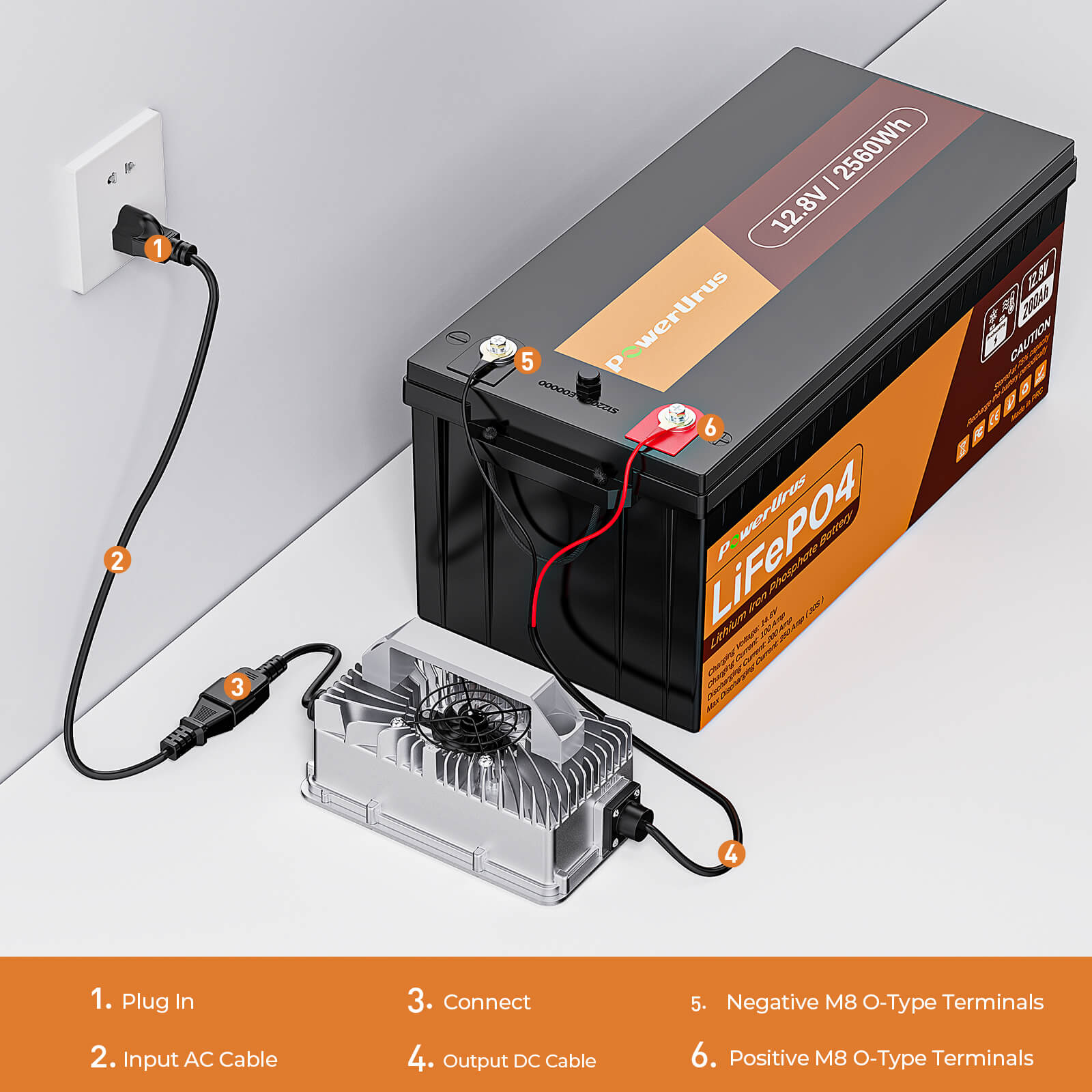 14.6V-30A LiFePO4 Battery charger
🏠Local Warehouse in USA
PowerUrus Battery original charger
Suitable for 12V 100AH / 12V 200AH LiFePO4 battery

 Input & Output

 AC Input Voltage Range

100-240 VAC, 50 / 60 Hz, 8A

 Maximum DC Output Voltage

14.6V

 Maximum DC Output Current

30 A

 Maximum DC Output Power

420 W

 Battery Type

LiFePO4 Battery

 Mechanical

 Dimensions

18.6 x 10 x 7 cm (7.3 x 3.9 x 2.8 in)

 Cable Length

Input AC Cable: 3m (9ft) / Output DC Cable: 1.5m (4.5ft)

 Weight

5 lbs (2.3 kg)

 Cooling

Active cooling with fan

 Environmental

 Enclosure

IP66

 Humidity

5% - 95%

 Operating temperature

-20°C to +65°C (-4°F to 149°F), Derated at >40°C (104°F)

 Storage temperature

-40°C to +85°C (-40°F to 185°F)
LED INDICATOR STATUS
| | |
| --- | --- |
|  LED Indicator | Charger Status |
|  1. LED solid Green. | 1. The charger is ready to charge, or charging is complete. |
|  2. LED Green blinking. | 2. The charger is charging. |
|  3. Red light blinking quickly. | 3. Input voltage is under-voltage or over-voltage. |
|  4. LED Red--Green, or Red--Red--  Green blinking   alternately. | 4. The output is short-circuited, or +/- pole in reversed connections. |
|  5. Red light blinks 2 times, 1 second interval, blinks 2   times again. | 5. Charger temperature overheating alarm, recover after cooling. |
|  6. Red light blinks 3 times, 1   second interval, and then   blinks 3 times. | 6. Output over-current alarm, dis/re-connected to power to recover. |
|  7. Red light blinks 4 times, 1   second interval, then blinks   4 times. | 7. Output over-voltage alarm, dis/re-connected to power to recover. |
If there is a problem with the charger, the fan will stop rotating and the LED indicator will blink red light to give an error warning. Please disconnect the charger from the wall socket.
WARNING AND SAFETY NOTES
The charger must be powered on once every three months, and the power-on time should not be less than 0.5 hours.
The E8-14V30A Charger is suitable for charging LiFePO4 batteries, charging other types of batteries may cause fire or explosion.
Never leave the charger unattended when it is connected to its power supply.
Never place the charger and batteries connected to it on any form of flammable surface. Never operate the charger in the vicinity of inflammable material or gas.
Ensure that there is unrestricted airflow to and from the charger's cooling slots. Never place the charger on a carpet or similar surface.
Take great care to maintain correct battery polarity, and avoid short-circuit.
PowerUrus knows well that fast delivery is a key factor for clients to compete in the market. We have always attached great importance to quick delivery as much as we do in the quality control of our lithium battery.
Shipping time
In general, the order will be shipped within 24 hours after the payment is successful. If there is another condition, we will notify the customer by email.
USA Shipment from the CA or GA warehouse and EU shipment from the German warehouse. The order won't be shipped on Saturday and Sunday, and orders placed on Saturday and Sunday will be shipped on next Monday.
Shipping fee
FREE shipping on all orders. All our shipping for products will be a door-to-door service with local UPS or FedEx delivery company.
Destinations
If you are concerned with shipping, please also check the free shipping area above picture. For some certain places, we might not deliver or need extra shipping. For some certain places, we might not deliver or need extra shipping.
PowerUrus offers free shipping within the continental U.S. and EU. For USA shipment we do not ship to Hawaii, Alaska, Puerto Rico, Overseas Islands, U.S. Overseas Territories, Military Addresses, and P.O. Boxes. For EU shipments we do not ship to Overseas Islands, Military Addresses, and P.O. Boxes.
Orders with multiple items may be shipped in separate packages to speed up delivery.
Tips for shipping
PowerUrus is doing its best to make the promised time, please understand our warehouse is working only on business days, so please remember to enjoy the day even if there's a difference in the ETA. By the way, we will inform you proactively if something is wrong.
You may please fill in the phone number. For a multi-hundred USD Battery, deserve a phone number for some urgent calls?
Feel free to reach out to us at hello@powerurus.com